<![if !vml]>

<![endif]>
SyncME for Servers                       Download SyncME
SyncME is a program designed to back-up your files real time, insuring that changes you make to your files are save and protected from loss. The main program allows for Real Time Back-up for frequently changing files and a Standard Back-up for files that rarely change. Some of SyncME's functions include:
Real Time Back-up Utility
Standard Back-up Utility
Version Back-up for both Real Time and Standard
Back-up to 2 Separate Locations
Easy Restore
Encryption of Back-up Files (Shared Networks)
Encrypt, Zip and Send Files
Steganography – Encrypting Messages and Data in a Picture for Stealth Transmission (Download a Sample)
Large File Splitter/Joiner for (Email/Transmitting)
Protect/Trial Executable Program
Easy Zip Program
Check Disk is run on Back-up drives to check for any Errors to prevent Data Loss
Easy or Auto Purge of Old Version Back-ups
Back-up to an additional system hard drive, a hard drive on your network,
a USB External Hard Drive or anything you can use to store data.
<![if !vml]>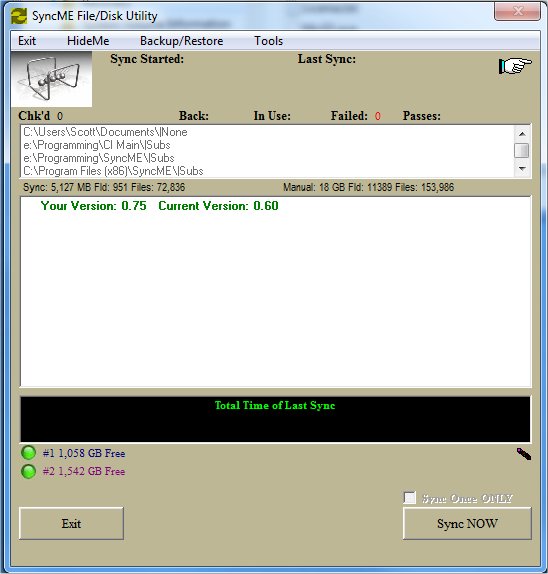 <![endif]>
SyncME is currently in final Beta. To participate in the Beta Program, send an email to Administrator@blackbartsoftware.com and put in the subject line SyncME Beta and your contact information. You will receive a serial number good for the first version. Those you contribute will receive a life time updates .